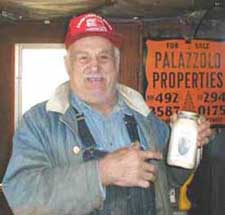 A while back, Wahoo ( shown here promoting his World Famous Whoos'radish ) was telling me about cooking a Turkey under a bucket. He claimed it could be done in about an hour and was the juiciest bird he ever had. Yeah...right......
On Memorial day weekend, I decided to try it myself. 20 hungry people showing up... pretty sure it would work.... no problem! We had a 15 lb Ribeye as a backup.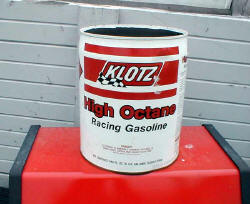 The hardest part was finding a steel bucket that wasn't galvanized. After calling every hardware store in the phone book, I was ready to give up. I finally stumbled across Klotz Lubricants' web site and lo and behold, they sell high octane gasoline in 5 gallon steel containers! After a quick call to Ben explaining what I needed a bucket for, he laughed & told me to stop by and pick up one that lost a fight with a fork truck. $0.00 cost.
Update; Many garages get grease and oil in 20-30 gallon drums that are heavier gauge and can be cut down to the perfect size.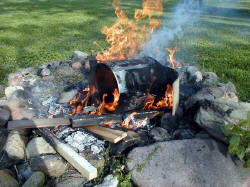 The first thing we did was "season" the bucket. This removed the paint as well as any residues left inside. This process takes several hours and many beers to be done properly.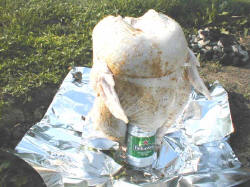 For best results, I highly recommend soaking your 10-12 lb bird in brine 2 cups salt, 1 cup sugar, 3TBS Old Bay Seasoning per gallon of water overnight.
Place appx. 3 sq/ft of Heavy-Duty tin foil on the ground and hammer a hickory or steel stake into the center. Make a ball of foil on top of the stake to support your bird and tie the wings and legs together so they don't touch the sides of your bucket.
The turkey should not touch the sides of the bucket or it will scorch! (see below) An apple or potato stuck in the neck opening is optional but does make a pretty picture.
If you click on the photo, you'll see a larger view showing one of the most important additions I made to Wahoos' recipe. At the suggestion of my hostess Geralynn, I used a "Heiney-Can"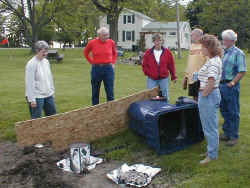 Start your charcoal in a pile off to the side and wait for the coals to ash over. Put 2 handfuls of of Apple chips or small twigs next to the bird and cover with the bucket. Place the coals around the bucket as well as on top. I use about 1 pound of charcoal per pound of turkey. In this example, I used 15 lbs and you'll soon see why that is too much.
Please note the skeptics that will gather around to watch your foolish endeavor. Play along with them and explain that you brought a package of hot dogs "just in case".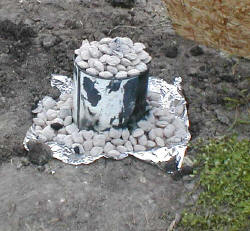 Now just sit back and wait. There's nothing else to do for the next hour except to listen to your bird sizzle inside the bucket. Be prepared to explain to newcomers that yes, there's a Turkey in there and yes it will be done in about an hour.
Remember, they laughed at Galileo too.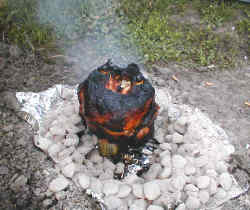 This was the result of 15 lbs of charcoal and 1hr 20 minutes of cooking. The good news is that only the skin was burnt and the bird was done to absolute perfection!
Remember that 12 lb Ribeye I mentioned earlier? Slow cooked for 4 hours over Apple, finished at the same time, absolutely perfect, and left over. The turkey on the other hand, was devoured instantly! We're a beef-eating group and there was plenty of other food but that Turkey disappeared in a heart-beat. Who would have thought?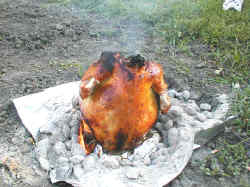 Here's the Turkey I did a couple of weeks later by request. 10 lbs of charcoal and 1 hr 15 minutes. To make this a controlled experiment, we once again did a whole Ribeye and once again there was some left over. MIKE WHO? (inside joke)
Next time, I'm cutting the cooking time to 1 hr and expect even better results!
Note:
Always test the doneness of any poultry with a thermometer before eating. Ideal temps are 160-165°F in the breast and 170-175°F in the thigh. Higher temps will result in an overcooked and dry bird. If your bird is undercooked, you can carefully replace the bucket and cook a few minutes longer.
After you remove the Turkey from the stake, cover it in heavy duty foil and towels or blankets for 15 minutes or more. This allows the juices to be re-absorbed into the meat and will bring your temperature up an additional 5 degrees or so. If you need to hold the bird for a couple of hours or more, just put it in a dry cooler and cover with more towels.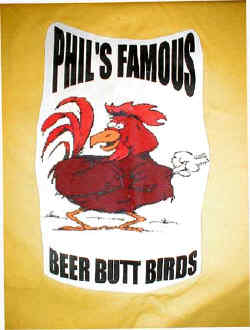 As an added bonus, I was presented with a cooking apron and T-shirt with this design on them. Catering and franchise information is available upon request. :)
Beer-Butt Chicken is here
For the best information on Smoking, Grilling or BBQ, visit https://tvwbb.com/
Be prepared to spend a few hours.