REFLECTIONS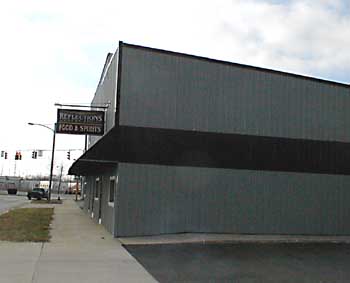 Location:
111 E Chicago St (State Rd 9 & Old US 30)
Columbia City, IN
(260)244-6978
Reflections has a double cheeseburger that can't be described. Try to imagine a double patty burger cooked over charcoal with a thick slab of red onion and hot pepper cheese. I'd suggest calling ahead to check availability and pricing.
As best as I can remember, we had a great time here. The plan was to grab a quick bite and head back to Fat Wayne. Somehow we spent 3 hours talking to Larry & Brenda and enjoying the frothy adult beverages.
It turns out Larry is a walking encyclopedia of 50's and 60's rock & roll and knows more about that era than any human should.
What really make Reflections different though, is the Saturday night races.
Now that indeed is unusual! Apparently plans for Outlaw Sprint races have been canceled because Larry can't seem to keep the wings glued on.