Food-Fun & Frivolity
With a little help from my friends
Welcome to Phil's Puny Pyro page.
If you're looking for information on the making of Bombs, Salutes, or M-80s, you might as well leave now. This is not a disclaimer added to simply cover my butt, I really don't want you here. If you email me asking for information on these items, I will forward your email to your local authorities. The Pyrotechnics hobby is under pressure from many fronts due to irresponsible idiots and I will do all I can to stop them from ruining it for the rest of us.
These pages are a compilation of information gleaned from various web sites, forums, user groups, as well as my own trials and errors. The information on this web site can result in either spectacular pyrotechnic displays or death and dismemberment. I take no responsibility for any damages to person or property incurred as a result of using the information or products sold on this site. No warranties are expressed or implied regarding any information received here.
Projects and procedures listed here may be illegal in your area. It is your responsibility to verify federal, state, and local laws pertaining to the use and manufacture of pyrotechnic devices. You are solely responsible to verify the legality of any procedure found here.
If you participate in this hobby long enough, it will "bite" you. Knowledge and experience will buy you time but eventually you will have an accident. I keep a print of this photo hanging in my workshop as a reminder. The person involved in this explosion was an experienced hobbiest and sadly, will never be able to tell us what caused it.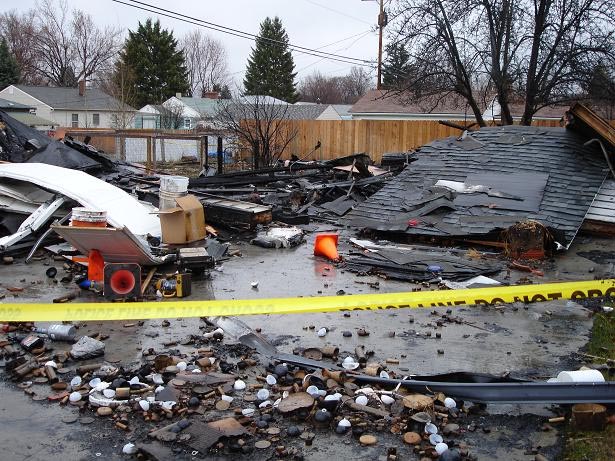 http://www.skylighter.com/fireworks/basic-safety-101.asp
All photos, Logos, and service marks contained within are the property of their respective owners. All material on this website is copyright protected and cannot be duplicated in any fashion without the prior written consent of IHaveADotCom.com. We appreciate and welcome links to this site but will vigorously pursue any "hot-linking" or image theft.

© 2002-2015 IHaveADotCom.com All Rights Reserved